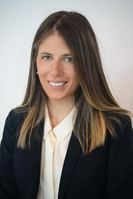 With over 8 years in the customer service industry Morgan Fisher knows what her clients want. After attending The University Of Vermont, Morgan began to work in the home design and fashion world. Here she learned how to help people find exactly what they are looking for. Using her love of design and sales experience she decided to parlay her experience into a career in real estate.
While working in the customer service industry she was known for her high sales volume, outstanding client services, communication and top knotch performance.
With her experience in sales, design, staging and marketing, Morgan offers her clients a unique experience. She offers clients the ability to professionally stage and creatively market their homes. She believes that by combining traditional practices with innovative ideas it creates a perfect formula for buying and selling.
Morgan resides in Boston's North End by way of Upstate New York, Vermont and New Jersey. When she is not working she can be found with her boyfriend Andy and rescue dog Tuck.