---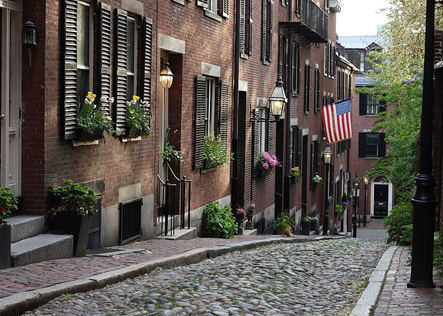 Beacon Hill
Beacon Hill is one of Boston's smallest and most historic neighborhoods situated directly north of the Boston Common and the Boston Public Garden. Featuring a mix of grand townhouses and fashionable shops, this cozy enclave is filled with nearly 10,000 people and has the intimate feeling of a village. Stroll down Charles Street to spy pricey antique shops, enticing cafes, and swanky clothing boutiques.
Approximately one-half mile square, Beacon Hill is bounded by Beacon Street, Bowdoin Street, Cambridge Street and Storrow Drive. It is known for its beautiful doors and door surrounds, brass door knockers, decorative iron work, brick sidewalks, perpetually-burning gas lights, flowering pear trees, window boxes, and hidden gardens. Its architecture, mostly brick row houses, includes the Federal, Greek Revival and Victorian periods, as well as early 20th-century colonial revival homes and tenements. The architecture is protected by restrictive regulations that allow no changes to any visible part of a structure without the approval of an architectural commission.
RE/MAX Luxury Living | 46 Cross Street | Boston, MA 02113 | Tel: 617.227.7007 | Fax: 617.227.7005 | Email:
[email protected]
Copyright © Remax Luxury Living.