---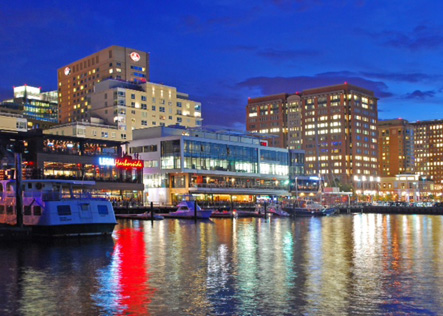 Seaport Innovation District
SEAPORT DISTRICT
The South Boston Waterfront is the formal name of an area in the South Boston neighborhood of Boston, Massachusetts, but it has increasingly becoming known as the Seaport District and is part of the Port of Boston on Boston Harbor. The Seaport now has 55 restaurants, 4 hotels, 9 major attractions and continues to grow. The Boston Convention and Exhibition Center straddles D Street. The Seaport Hotel and Seaport World Trade Center is located on Commonwealth Pier. A new home for the Institute of Contemporary Art hangs over Boston Harbor just north of Northern Avenue and The John Joseph Moakley United States Courthouse is on Fan Pier.
INNOVATION DISTRICT
The Innovation District is Mayor Thomas M. Menino's initiative to transform 1,000 acres of the South Boston waterfront into an urban environment that fosters innovation, collaboration, and entrepreneurship. From a tech meet up at a co-working space to an art exhibition opening, to the launch of a new start-up or a special chef's event at a local restaurant, the Innovation District is expanding quickly. The Innovation District is nestled between Boston's transportation gateways: abutting historic Boston Harbor, adjacent to Logan International Airport, and at the nexus of two major interstate highways. It also contains the largest tract of underdeveloped land in the city of Boston, and is an area with opportunity for growth, a strong existing knowledge base, and the ideal location for producing new ideas, new services and new products.
(courtesy of Innovationdistrict.org)
RE/MAX Luxury Living | 46 Cross Street | Boston, MA 02113 | Tel: 617.227.7007 | Fax: 617.227.7005 | Email:
[email protected]
Copyright © Remax Luxury Living.